Love teaching at the "Art On The Columbia" Fine Art Supply store and training center on Columbia Center Boulevard.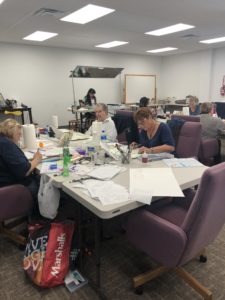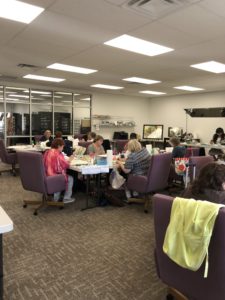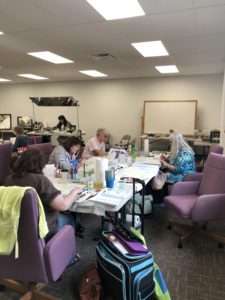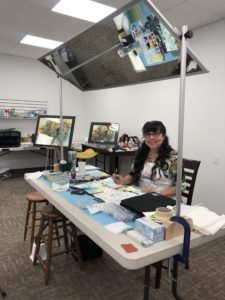 "You are a great instructor – that is what makes your class so interesting,.  Also your patience and thoughtful suggestions.  Your demos and how you carefully explain each step and I also liked your examples."  Jan R
"Excellent workshop, & FUN!" Linda F
What is the best thing about this workshop?:  "Suzi's patience and no question went unanswered."  Terry M
What is the best thing about this workshop?:  "You!  and the great way you present the info.  Very organized and you are so kind.  Thank you for putting so much effort into these workshops.  I feel very fortunate to take lessons from you."  Anne S
What is the best thing about this workshop?:  "Suzi!  Great teacher and happy demeanor, good development of the techniques easy to difficult."  Kimberly R
"Challenging myself – your teaching style was perfect for this new skill."  Liz B
"I'm new to your classes.  I've enjoyed start to finish.  You are an excellent instructor,  I enjoy you sharing your knowledge and experience.  You teach in an easy way I'm able to learn and retain."  Chris P
"Love the teacher, love the venue."  Sally G
What is the best thing about this workshop?:  "You!  Appreciated the one on one help and guidance.  Also liked your handouts and relaxed encouragement to all.  The critiques are helpful."  Sandi B
"Painting a masterpiece! Suzi makes it easy to paint like a pro." Bethany O.
"Suzi's calm demeanor and genuine style provided a fun/entertaining environment while learning many different techniques." Sue L.
"This is the most fun I've had in months!"  Stephanie H.
"The best thing about this workshop is the great instructor and fun atmosphere!" Gloria C.
"Suzi makes us all feel comfortable and capable."  Kathy K.
"Great instructor, step by step approach to success."  Kay F.
"Loved it.  So inspired to paint more" Nickolette H.
"I never thought I could be artistic, Suzi showed me that I can, even my husband was impressed with my very first painting, I'm going to frame it!  Thank you Suzi!" Judi K
"Suzi's enthusiasm for watercolor and her exploration of techniques is contagious!"    N. N.
"Couldn't of said it better myself. You women are simply amazing! I loved my time spent with you. Thanks for a great day of inspiration, laughs and joy!" Susan H
"I couldn't wait to go home and frame my painting!  What fun!"  Deb N
"Good teacher, very patient."  Carolyn J
"Suzi, I love your teaching style.  You have the unique ability to meet the full range of learners from beginner to intermediate/advanced."  Kim L
"Negative painting is cool, great workshop!" Jeff G.
"So easy to understand, learned a lot!  Wonderful camaraderie too.  You helped me to break out of my block." Lisa A.
"You have inspired me (big time)!  You deserve full bragging rights that are well deserved and I so appreciate your patience.  You ROCK !" Donna H.